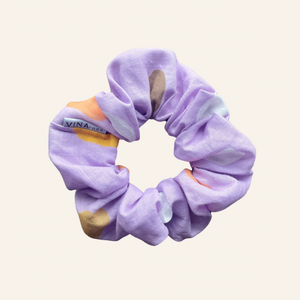 Introducing our Tilda & Moo X Vinarada collaboration, made right here on the Mornington Peninsula - The Scrunchie!
Our scrunchies are the perfect way to keep your hair looking stylish and in place. They come in a variety of vibrant colours and patterns that will add a touch of fun to any look.

This scrunchie is made out of Lightweight Linen. It is one of the most eco-friendly choices you can make, with a crisp & stylish look and feel, it will keep your hair in place all day long. Whether you are dressing up for a special occasion, or just want to add a bit of flair to your everyday look, our scrunchies are the perfect match for you!
Fabric design: Nerida Hansen
Material: 100% Linen 
All scrunchies are handmade and may vary slightly in pattern/ shape and colour.